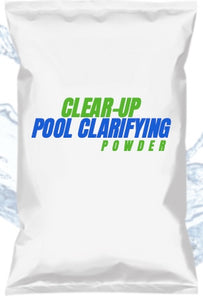 Dive into the pure, sparkling water of your dreams with the Clear-Up Clarifying Powder. Specifically designed to tackle the stubborn particles and bacteria that dull your water, this powerful formula ensures a gleaming pool that beckons for a swim.
---
Features & Benefits
Particle and Bacteria Removal: Effortlessly removes the nuisances that cloud your pool, giving you pristine water.

Phosphate Elimination: Get ahead of algae and bacteria growth. With its unique formula, Clear-Up also targets phosphates which can lead to unwanted infestations.

Optimized Filtration: With the integration of Clear-Up, watch your filter's performance reach its peak. The positive charge imparted by Clear-Up draws particles, which are then easily captured and removed by your filter.

Crystal Clarity: Not just cleanliness, but clarity. Experience the unmatched transparency of your pool water, making every swim a luxurious experience.
---
How it Works
Clear-Up Clarifying Powder imparts a positive charge to the particles in your pool water. These charged particles are irresistibly attracted to the negative charge of your filter's surface. When they meet, they form larger groups known as flocs. These flocs are then easily captured and removed, leading to a visibly cleaner pool.
---
Usage Directions
Put Clear-Up Clarifying Powder in the pump basket and fill it 3/4.

Let the filtration system run for at least 2 hours
Enjoy a sparkling clean pool!

---
Don't Compromise on Clarity
No more settling for murky, uninviting pool water. With Clear-Up Clarifying Powder, every dip feels luxurious, and every glance at your pool is a sight to behold. Upgrade your pool care regimen now and dive into crystal-clear bliss all season long!
For local customers
Please note that shipping fee is not added to the mentioned prices. We have strategic partners in different locations for fulfillment:
> Manila
> Cebu
> Davao
> Ilo-Ilo
More places to come soon.
If you want to know about shipping charges, contact us @ +63-998-265-9514 or email us at info@innovativewatersolutionsinc.com
For international customers
To arrange for mode of delivery, please send your purchase order confirmation to info@innovativewatersolutionsinc.com or contact us thru viber/whatsapp @ +63-998-265-9514