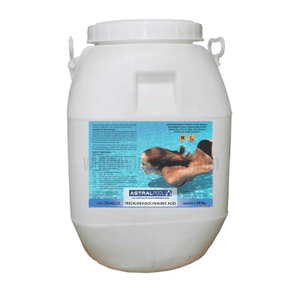 Experience superior pool water treatment with AstralPool's Trichloroisocyanuric Acid (TCCA) 90% Granules. This premium product is a slow-dissolving, stabilized organic compound that provides a potent 90% available chlorine, ensuring optimal cleanliness and safety for your pool water.
Key Features:
Highly Effective Disinfectant: With 90% available chlorine, these granules offer powerful disinfection, keeping your pool water clean and safe.

Slow-Dissolving Formula: The slow-dissolving nature of our TCCA granules ensures a long-lasting treatment, reducing the frequency of application and providing consistent chlorine levels.

Stabilized Compound: Our TCCA granules are stabilized to prevent rapid chlorine loss due to sunlight, ensuring maximum effectiveness and longevity.

Non-Comburent: Adhering to regulations, our TCCA granules are non-comburent, presenting a lower hazard level compared to comburent chlorate products. This makes them safer to handle and store, with no storage limitations.

Large Pack Size: With a generous 50kg pack size, this product is ideal for regular pool maintenance, offering excellent value for money.
Usage Instructions:
Add the granules directly to your pool, following the recommended dosage instructions on the packaging. Regular testing should be conducted to maintain optimal chlorine levels.
Safety Information:
Always handle with care and store in a cool, dry place out of direct sunlight. Keep out of reach of children.
Experience the AstralPool difference and ensure a clean and safe swimming environment with our TCCA 90% Granules. Order yours today.
For local customers
Please note that shipping fee is not added to the mentioned prices. We have strategic partners in different locations for fulfillment:
> Manila
> Cebu
> Davao
> Ilo-Ilo
More places to come soon.
If you want to know about shipping charges, contact us @ +63-998-265-9514 or email us at info@innovativewatersolutionsinc.com
For international customers
To arrange for mode of delivery, please send your purchase order confirmation to info@innovativewatersolutionsinc.com or contact us thru viber/whatsapp @ +63-998-265-9514